Personal experience
Self-doubt has always been a big issue for me. Until today I find it incredibly hard to believe in myself and in what I am doing. I grew up with the notion that I had to be humble and not brag about what I was achieving, but this slowly led me to believe what I told everyone, namely that I was not very good at what I was doing (regardless of what it was).
To give you an example: When I received very good marks in high school, I told everyone it was not a big thing and that I was not really proud of it or it was not something special, because I did not want to come across arrogant. As I kept going with this, I started to believe it, so I never felt that anything was quite good enough. As it turned out much later, I actually was perceived as arrogant, because of what I said, since of course, for everyone else my results were actually remarkable. So, the reaction I tried so much to avoid, was actually what I encouraged with my behaviour.
Usually, I also struggle with showing people what paintings I have made and what other stuff (that makes me proud) I do to improve my skills. Another interesting aspect of my self-doubt is how I look like (as it probably will be for nearly everyone else). People who know me might be surprised (if they did not know this before), because I don't really pay attention to what I am wearing and take no interest in makeup whatsoever, but I tend to criticize my shape and face quite a lot. On rare occasions, I am happy with the way I look, but I would never utter a word about it.
I feel like some things have changed to the better since last year, because moving out and to another country where I have to solve problems and do everything else on my own, has given me a boost of confidence. Nevertheless, I still find it incredibly hard to be proud of something, because there is always this little voice telling me that, whatever it is, is not good enough to be acknowledged and that there is still so much room for improvement. It is really hard to fight it sometimes and I relate to everyone out there, who has similar struggles.
Different kinds of doubt
I know that doubting yourself is a rather big topic today and that everyone suffers from it sometimes. However, I would say that there definitely is a difference between the healthy doubt that can actually improve your performance or ground you, in case you have been too full of yourself before, and the damaging one that keeps you from doing stuff you actually like.
So far, I have been lucky enough to only encounter a rather harmless version of self-doubt, since I cannot recall an event where I held back from doing something I wanted.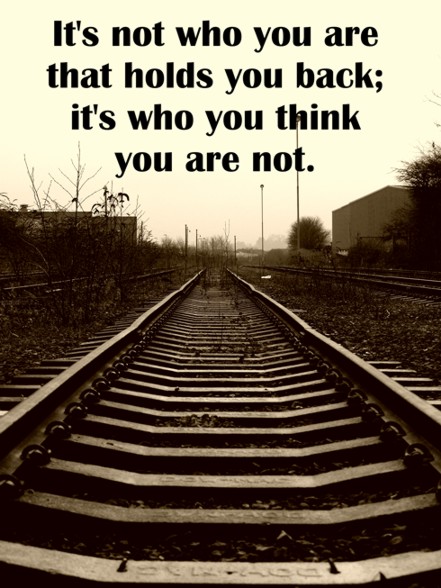 The damaging version often shows itself when having a mental disorder or problems with mental health in general. The opinion of yourself will rapidly decrease up until to the point where you find yourself unable to leave the house or do anything you had planned for the day. Should I really wear this? Don't I look horrible in it? Can I really write this exam? I am so bad at maths. Do my friends really like me, or do they just tolerate that I am there? What if I am not good enough (for whatever is coming)?
When talking about doubting yourself, I would also like to address the self-doubt that is not initially coming from yourself but rather induced by a comment someone is making. We all know these really toxic people who can make you feel bad just by the way they look at you, but the ones that actually make a comment are even worse.
Nothing feels worse than someone telling you, you should not wear something because of your size or that you are a weird person, just because you take interest in other stuff than they do. If you ever received one of these comments or hear them in the future: Dismiss them. And never think about them again. You are already giving yourself a hard time, you don't need anyone else doing that for you and increasing the pain.
No one has the right to make you feel bad about yourself, so don't let them get to you. I know it is easier said than done, but the stuff people point out is probably what makes you special, so you should rather take pride in it. Oh, and I know for a fact that you are a wonderful person, just because you took the time to read my really small and unknown blog and actually got until here. No one that is e.g. ignorant or dismissive of others would a) click on this or b) actually make the effort of reading it. So, thank you for making my day better by being here.
Self-doubt in men
Now, I will turn to another interesting notion related to confidence/self-doubt. I thought a while about the following ideas, because I was not sure how to approach it, but I hope that I found a way that can express what I am trying to say, appropriately.
Usually it is assumed that women are struggling much more with their self-image and how they perceive themselves, but regardless of how true this statement might or might not be, men are doubting themselves, too. Since in many societies they are expected to show no sign of weakness, they keep quiet even more often than they probably would under other circumstances (which is just frustrating for me, because I feel like everyone should be able to talk about what they are proud of, but also what they might fear or be self-conscious about).
Not talking about self-doubt
The notion of not talking about self-doubt can be generalized. We force ourselves to be the shiniest and most presentable version possible, because we think no one actually wants to listen to someone who expresses their self-doubt. We shy away from talking about our fears, because we are scared of opening up or being vulnerable, and for men it can be even harder, because society does not expect them to be vulnerable.
I would like to encourage everyone to talk openly and honestly about their self-doubt, but also about things you are proud of. Talk about it with people you trust, simply because it will make you feel better. Whoever you are close enough with, tell them about your proud moments, I am sure they will encourage and congratulate you. The people you trust and who really care about you, will probably try to take your self-doubt away or support you by any means possible. So, don't be scared to ask for reassurance.
Now that I say reassurance, I come to think about that we are not giving enough compliments to each other, but I will have to write a separate post about that. I am also happy to announce that I wrote a guest post about learning to love yourself that will be published on Sarah's blog, which is called "A Woman's Confidence", this month, so if you are struggling with your confidence and self-love, you might want to give it a try.